Kandee Ann Kahn, beloved wife of author Robert Kahn, passed away in 2010 following a brief illness. Survived by her husband and their two children, Bobby and Mandee, the family established an endowment to honor Kandee's 37 years of service in public safety.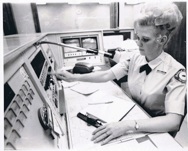 Kandee will forever be remembered as a pioneer for women in law enforcement through a memorial scholarship in her name. At only age 19, she began a career in emergency dispatching, a job that was then predominantly held by men.
The Kandee Ann Kahn Memorial Scholarship for Public Safety will benefit law enforcement and dispatching students at WNC into perpetuity.

Kandee is also the author of crime thriller 'Dispatched', available on Amazon.com