PODCAST with Annie Jennings. Then click Children's Safety Bob Kahn
Robert Kahn, M.A.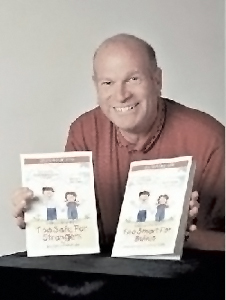 Robert Kahn has a Master's Degree in Education. It was during Kahn's tenure as a sixth grade teacher that he became concerned about the safety issues that involve children and decided to become a Deputy Sheriff to help educate and protect our youth from harm. He started a Stranger Danger program in local schools and community service organizations. Local law enforcement credits this program in foiling over 40 attempted abductions by strangers. To-date, Robert has given over 20,000 presentations covering 15 different topics on children's safety issues.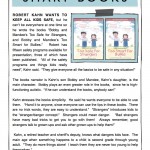 Kahn's mission is to keep all kids safe, but he can't be everywhere at the same time. So, with the insight and knowledge gained from his experiences, Kahn began to write a series of children's safety books. His first book, Bobby and Mandee's Too Safe for Strangers, is based on his program. His other safety books help children learn how to deal with today's problems.
All of his books are told in the voice of his own children, Bobby and Mandee! Kahn's daughter Mandee is the main character although Bobby plays a very important role in the books. As a high-functioning autistic, "If he can understand the books, anybody can!" Kahn stresses the books simplicity so that anyone can benefit from them. Using simple language, the books introduce the concepts and then provide tips on how to deal with them.
The main age when something happens to a child is second grade through young adult. As kids start doing more things alone, it is imperative that they know how to help themselves to stay safe. The goal of the Bobby and Mandee Safety Series is to provide parents, educators and other trusted adults with essential information to share with our precious children to keep them safe in today's world.
Want Bob to speak to your group? Click here for details!